Horse Walkers
We build different horse walkers. You can choose different materials for panels, roof, door, etc.
Here below the complete description:
Description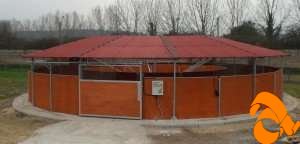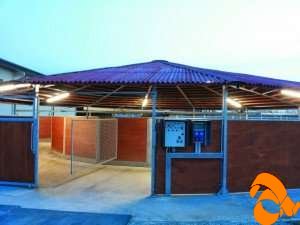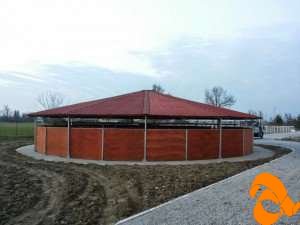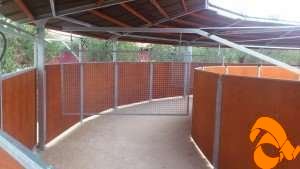 HORSE WALKERS
Sizes 
ø 10m – 12m – 14m – 16m – 18m
Structure
Galvanized steel structure
Hinged door
Power engine Kw.1,5 M
Control Box
Emergency button (red)
Start button (green)
Horse in/out button
Speed control – 1 to 10
Our control box allows you to program automated workouts for your horses.With this added functionality, conditioning your animals can be more precise as time, speed, and direction are determined for each pre-set routine.
Inside/outside round-pen panels
Different panels available:
Birch panel 150cm
Pipe fencing
Metal grid sheets
Larch board – thickness 3,5cm/High 100cm
Roof
Different roofs available:
Fiberglass roof
Sandwich panel – 3cm grey
Sandwich panel – 3cm brown
Sandwich panel – 3cm green
Divider panels
Low impedance electrically-charged, free swinging divider panels encourage horses that have a tendency to lag behind to keep pace
Optional
Gutter
4 neon lights
irrigation system
blanket holder
halter holder